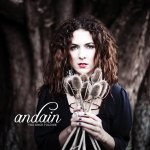 You Once Told Me - Andain.
Despite the modest size of their discography, the history of one of EDM's greatest cult duos has created quite a few ripples in the industry. "Summer Calling". "Beautiful Things". Just the titles of two tracks, two successive years, two conclusive anthems and ones that masterminded the rocking of countless club floors. That was followed by a recorded-but-never-released long-player, band hiatus, a parting of ways and finally, in 2011, the reunion. All of which has led to this point: the release of Andain's first official band album. When the demands of their individual careers proved too great, it seemed to spell a premature finale for one of dance music's most gifted acts. But through "You Once Told Me" fate has intervened. Songstress Mavie Marcos and production wunderkind Josh Gabriel from Gabriel & Dresden are finally set to deliver their first full-length track collection. Opening the album's account is their most recent single. Resonating with deep, spacious bass, "Turn Up The Sound" brings a refined Indian-inspired percussive instrumentation that backs Mavie's loud-and-clear call to action. Setting a more chilled, Café del Mar style tone, "Like" has an aching, lyrical fragility that's picked out, to beautiful effect, by Gabriel's slow motion beats and enrapturing string sections. If "Like" is the album's Café del Mar moment, then "Forget Your Face" is its Café de Noir. Josh marries a filtered, panned omnipresent ticking clock with sharply programmed, snapping break-beats to create a darker, swirling miasma-ish atmosphere. Perfectly showcasing Mavie's intoxicating, indie-edged vocal haunt, it gives another diverse hue to the album. Explaining Andain's unique production dynamic, Mavie says: "We blended natural acoustic sounds throughout the album with electronic percussive ones. We made sure to keep our musical sound pallet made up of our drum kits and analogue synth sounds, consistent throughout. We thought this would result in the most intricate album for the listener - something that is meant to be listened to, in its entirety, as a cohesive piece of music - not just a string of singles." The combination of Mavie's classical and rock background with Josh's never ending love of early 80's new wave means they balance each other beautifully. "I'm usually the one pulling for the strings, bells, twinkles and melodic sounds, while Josh is great at creating the darker melancholic textures, the synths and distorted sounds to bite you and feel gritty. Beautiful music needs both of these", she states. Emphasizing that to a tee is the vibrant, cultured drum 'n' bass beats of "Much Too Much", which briefly provides the album with a film score feel, whilst on "Ave Maria", Mavie's meditative, almost story-tell lyrics cast the net further still. With its imaginative chiming musical box sub-melodies and sporadic punchy beats, "Promises" -the single that heralded their re-emergence- is just as compelling now as it was a year ago. "After" meanwhile brings more poignantly themed lyrics, while "What It's Like" introduces low-fi rocky guitar notes and shakes in some idiophonic percussion lines. "Find Your Way" invokes more seaside atmosphere and sunset imagery, while the album's title track summons anthemic sing/shout-it-out lyrics, leant additional dynamism by the exacting programming of Josh's beats. Closing out the album, "Taken Away" gives "You Once Told Me" a lamenting, searing complexion; a quiet, compelling final storm that provides its perfect deal-sealing climax. Crafted for a different type of floor, its 11 tracks are filled with translucent melodies, unhurried beats, leading edge FX wizardry, all matched to Mavie's intriguing, elliptical song writing. Long-promised, now delivered "You Once Told Me" is the Andain album fans old and new have been waiting for.
Label: Black Hole Recordings
Die CDs können direkt auf der Site [http://www.cede.ch] oder auf der Site [http://www.directmedia.ch] bestellen werden.
Die CDs können direkt auf der Site [http://www.vinylnews.ch] oder aud der Site [http://www.webrecords.com].
Diesen Eintrag wurde am 20.11.2012 durch sven publiziert.